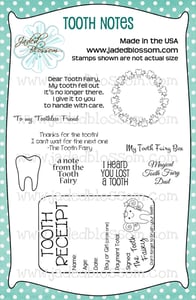 $

15.99
**Back in Stock and its from our new manufacturer- Peachy Keen**
This stamp set is 4x6 inches.
Sentiments:
To my toothless friend
A note from the Tooth Fairy
Magical Tooth Fairy Dust
I heard you lost a tooth
My tooth fairy box
Thanks for the tooth!
I can't wait for the next one
-The Tooth Fairy
Dear Tooth Fairy,
My tooth fell out,
It's no longer there.
I give it to you
to handle with care.
Images:
Tooth, Tooth Receipt, Tooth circle (use a 1 3/4 inch circle punch)